Young talents have room to grow
Senna and Lauri, both project engineers, are young professionals who have entered their Raumaster career in a similar way. Both came in as summer trainees and have since then been employed full-time.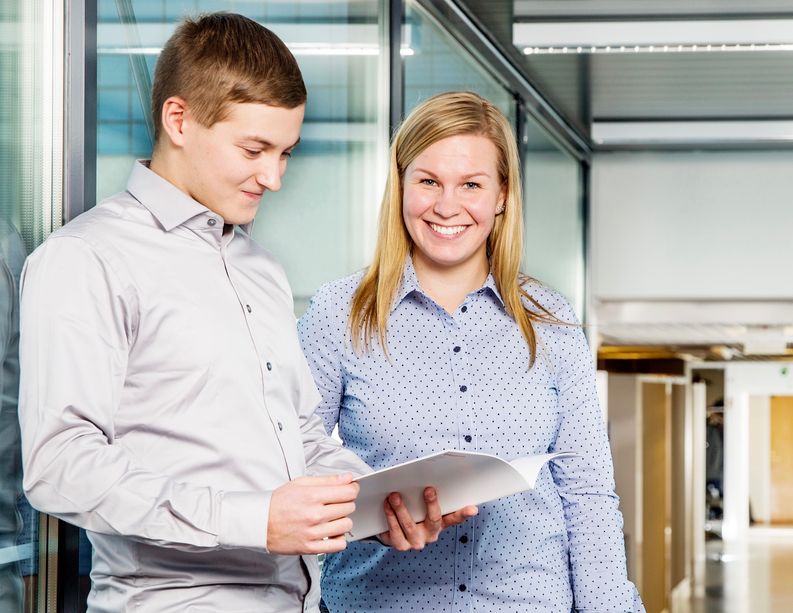 – I came to work as summer trainee and when I finished the summer job I had a full-time employment contract in my hand, Lauri says smiling.
Senna has been working as a summer trainee for two summers and since then she has been full-time employed. Both young professionals feel that Raumaster is a place where young people are taken on-board very well and they have room to grow and learn from more experienced professionals.
Open and supportive atmosphere
Senna and Lauri describe the atmosphere among their colleagues open, supportive and fun. Joking and laughing is common, although sometimes deadlines are close and projects need to be delivered in time.
– It's important to understand that this company and its people have vast experience, but at the same time I have new ideas and knowledge I can bring to this company as well. I am able to learn something new every day, Senna says.
– That's what I like about this company: although I am young and not that experienced, still everyone listens to what I have to say and my opinions are taking into account.
By taking responsibility I am given more responsibility as well, Lauri says. That is the perfect way to learn and grow in our careers to become global leaders in our industry, both Senna and Lauri say.
Share