Mikko Mäkelä: "Know-how grows in real projects"
Mikko Mäkelä first started working for Raumaster in May 2017. At the time the young man from Kankaanpää was studying mechanical engineering at the University of Oulu and his plan was to spend four months in Rauma for a summer job.
– During the first two summers I worked as a product engineer. It is the position most engineers typically start their careers with at Raumaster, Mäkelä says.
He found the technology corporation at a University recruitment event in Oulu where Raumaster was represented together with the city of Rauma.
– I had a long conversation with people from Raumaster and learned a lot about the company, its operations and the work itself. That discussion gave me a good idea of what I wanted to do in the future.
Working for a leading player and pioneer in the field attracted the young man.
– Raumaster's activities are my own field. It is the so-called basic technology for the basic man, but also one that offers a good challenge and thus opportunities for self-improvement.
Mäkelä praises the way in which Raumaster welcomes new employees. It was easy to start work there.
– Everything was really well organized. I got a thorough introduction to both the company and my job. This was definitely the best experience I've ever had in a summer job, says Mäkelä.
– I didn't know anyone from Raumaster, nor from the whole city. I was well received and immediately felt that I belonged. The importance of such things is particularly emphasized by the fact that this is very much a team effort.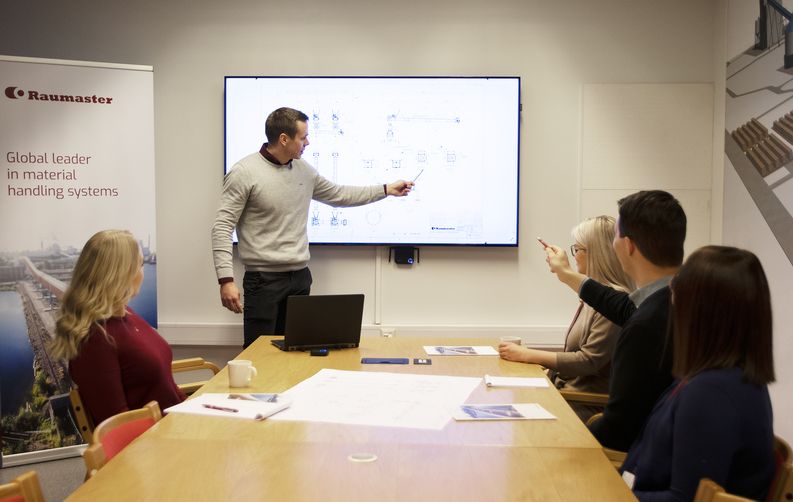 Competence develops in practical work
At Raumaster, no one is expected to know everything at once, and more experienced collegues are always available to help and advice.
– The job begins with assignments that teach everything that product engineers do. First you learn how to use AutoCAD, Lean and other software you need at work. You will then slowly move on to designing for instance screw reclaimers, says Mäkelä.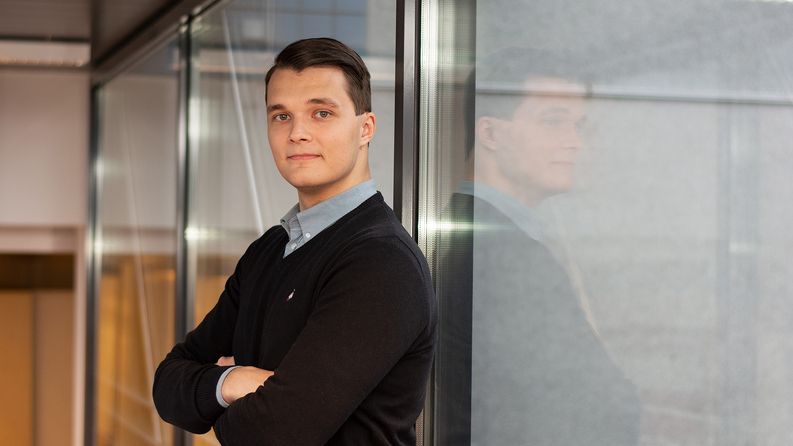 He reminds us that while studying creates a strong foundation for one's own knowledge, practice is still the best teacher.
– The information flow is endless, and it is important to know how to use it. At the same time, it is important to keep in mind that one does not know everything. However, already during the first summer I was making huge leaps forward in my work.
For the winter, Mäkelä returned to Oulu to study for the fourth year. For the summer of 2018 he returned to Raumaster as a product engineer. His current job as a project engineer began in January 2019.
– I am currently working on my master's thesis, which is expected to be completed in early June. The whole past year I have been able to focus on a related project full-time, however, every day has been different and brought with it challenges for me to solve.
The opportunity to see one's own contribution
Mäkelä points out that he has always felt good about going to work both in his summer job as well as in his current position.
– Good and challenging tasks take me forward all the time. There is a lot of know-how in the company that is shared. Matters are solved together in a big group, and nobody has to make decisions alone, Mäkelä points out.
At Raumaster, also the summer workers get to take part in real projects.
– You can see your own contribution to the process. This is emphasized when, after designing a machine, you can actually see the finished product with your own eyes. From the office it is easy to visit the Sampaanala workshop to see the progress of your own projects.
Mäkelä is a good example of the fact that Raumaster has jobs available for experts even after summer work.
– When you do your job well and are ready to develop your own skills, you will certainly have an opportunity to be employed in the future. Challenges are offered according to everyone's own abilities and desires, says Mäkelä.
Share